When your kids ask you a question like "Mum, can we go camping?" You begin to panic, camping, sleeping outside, roughing it……. But you know that this will make the best memories and be something that they will look back on for the rest of their lives and say remember that time we went camping. So you put aside all your own worries about it and do it for them.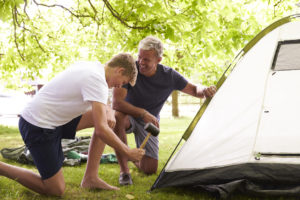 So off we went to the shops to pack up what we needed for our first trip sleeping in a tent. We managed to buy a tent that looked like it would fit a family of eight, so we four would have lots of room to roll about if needed. We bought sleeping bags, pillows, a small cooker, pots, pans, plates, cups, we may as well have been buying the whole shop there was so much stuff to think about.
We began to plan our trip to the south of Ireland and realised that we could bring our bikes along, so back we went to the camping shop to buy the attachment to hook the bikes onto the back of the car. At the rate we were going we had spent just as much as if we had been going all-inclusive in Barbados!
We packed up the car with everything and off we went. The kids screaming with excitement about sleeping under the stars and having your dinner outside. It is the little things with kids that make the best memories. So it would be five days jam packed full of new experiences.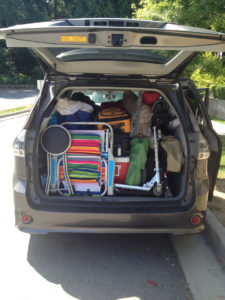 We arrived at the camp site and I have to say pitching the tent was slightly stressful but as usual the kids giggled the whole way through and found the whole thing hilarious. Finally when we had it done, we went exploring, and within minutes it was like the kids were naturals at the outdoor living.
The five days flew by and each day was filled with more memories. We swam in the lake and we were canoeing every morning, we fished, we climbed trees and it was just amazing. When the time came to pack up and head home we were feeling sad but exhausted. The kids only thought was when can we go again.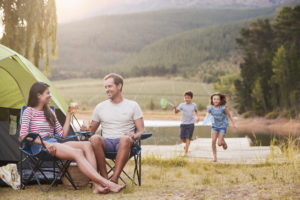 When we packed the car we were unsure we were going to pack away all our new items. It's not easy to find a space in an already over packed house for an eight person tent!! We knew we would be using it all again and maybe even before the end of the summer, if the kids have their way that is.
We looked at our watches and noticed that it was 5pm and as we were driving home we noticed that Space Storage was still open. We popped in with the car still full. We spoke to Darren and he showed us a 25 sq foot unit and there and then we moved in and packed up our unit. It was that easy. We got 24 access so we knew that if we fancied packing up the car at 7am one morning we could shoot off on another adventure.
The kids have already picked their next ten holidays and it all involves sleeping in a tent! Making memories and lots of summer fun, thanks Space Storage.